Hello everyone, meet this slutty girlfriend named Leah Luv. Leah is 18, yup, and she's REALLY 18. Not some 24 house wife trying to pass off that she's young or something. Leah, like all white women, loves black men. Why? Is it cause it's naughty? Is it because her mother had an affiar with a colored man? Is it because daddy was always at work and never paid attention to her? Probably all of the above. But that's fine. We love that Leah is fucked up in so many ways. Otherwise she may have never gone through and sent in these pics and videos of her being written on by her black "booty call". After a few minutes of her black encounter, her black bull pulls out a sharpie and tags up his white girl proper like. And you can tell Leah is happy to let everyone know she's a little black cock whore. She even wrote some of the graffiti herself. Now, she isn't a wife of anyone, but she is cheating on her boyfriend. So it's actually pretty close to the same thing. Enjoy Leah!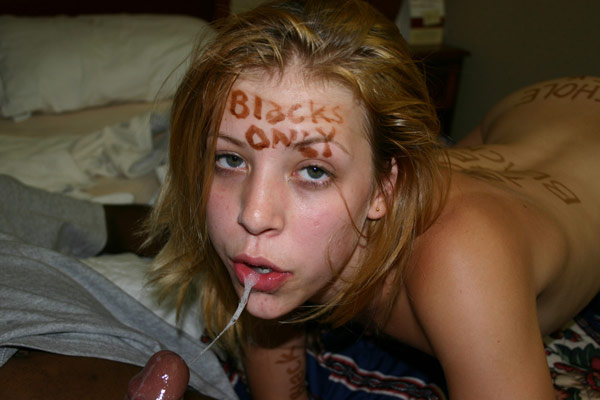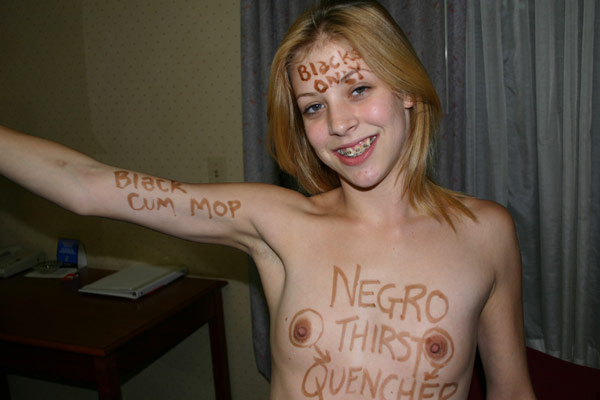 THERE IS A TON MORE LEAH CONTENT!!
I'm sure these few picture only wet one's appetite for Leah. She's a cute, nasty 18 year old slut. You know you want to see more, so head on over to the official site and grab your username and password. You can get instant access, no waiting around. Once you fill out the form... BOOM! you're in. Perhaps you would rather see some more wife writing babes before you make your choice. Well I have plenty more for you. Like Aspen getting written on, or Gia sucking off a negro... the list goes on and on!